Weblinks within Healthquest
Save commonly used websites within Healthquest for quick access throughout the day.
Click on the browse men and select web-links.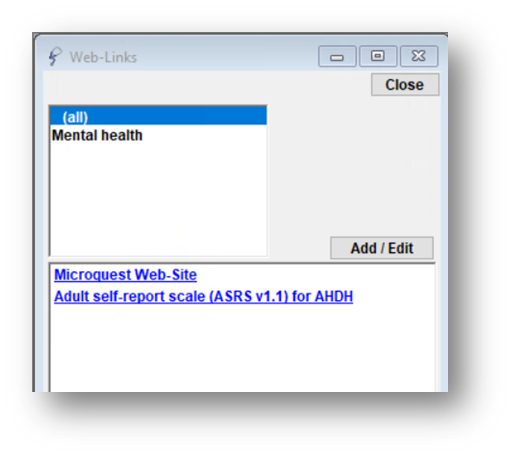 Here you can click on the links already saved in here or add new links.

Click 'add/edit'.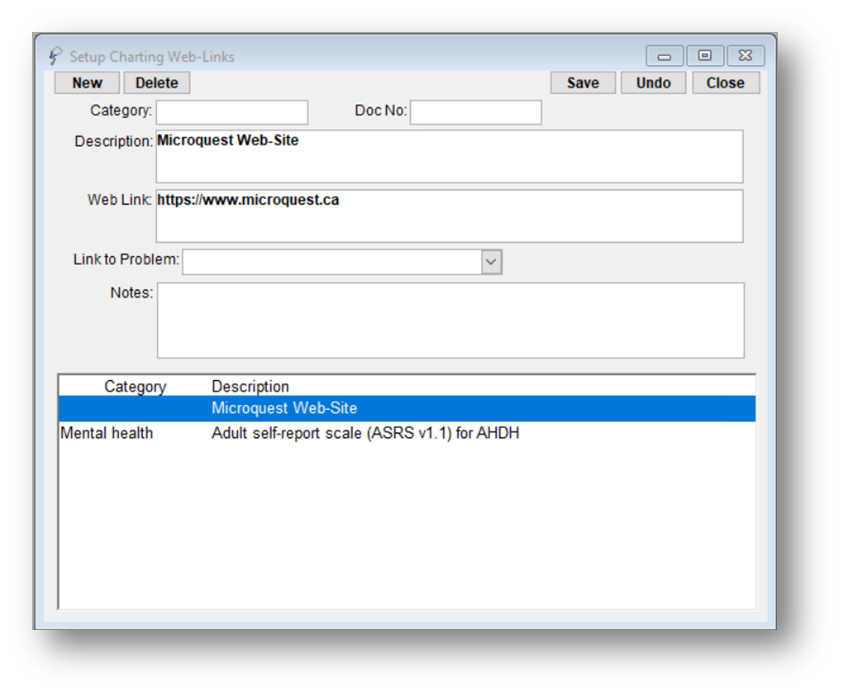 Click new.




Enter a category to group links in the list.




Type in a description that will be seen as the link.




Insert the website link into the web link box.




Add any other notes, link it to a problem, or practitioner.




​

Click save.



Related Articles

PrescribeIT with Healthquest

Canada Health Infoway is working with Health Canada, provinces and territories, and industry stakeholders like Microquest to create, operate, and maintain a financially self-sustaining, e-prescribing service, known as PrescribeIT®. PrescribeIT® ...

Netcare in Healthquest

The Alberta Netcare portal is an online interface allowing all Alberta healthcare professionals to view, and in some cases, update key information such as a patient's allergies, prescriptions, and lab results, if they have access. Netcare displays ...

4.3.75 - Healthquest version - June 3rd, 2022

*New* Chart Templates - Option to prevent chart notes from auto-locking on a template basis. Configure in Setup > Charting Setup > Template Design. Select a template and deselect 'Auto-Lock' on the template wizard window. *New* Appointment Scheduler ...

4.4.00 - Healthquest version - Jul 18th, 2022

*New* PrescribeIT® Renewal Requests - Display pending responses in the medication list, and allow 'Draft' responses. *New* PrescribeIT® Renewal Requests - Approve requests with the original copy of a medication instead of the details on the ...

Requirements for patients to be included within a CPAR panel

Client Card The data from the client card that is included in CPAR includes: Name (Last, Middle, First) PHN (CPAR retrieves the number and the recovery province) Gender Date of Birth Verified Date Last Visit Date (this is pulled from appointments) ...